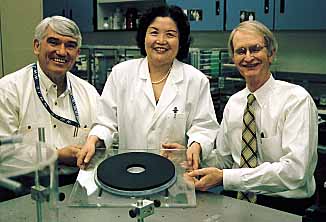 I remember reading this article in Popular Mechanics when it came out in 1999. Not long after, I ran into Dr. Campbell. (the guy on the left with his NASA badge tucked in his pocket) and asked him about the project. He seemed to be optimistic about its chances at success.
That was over a decade ago. Now, the head scientist, Dr. Ning Li, (lady in the middle) has apparently disappeared a few years ago, and Larry Smalley (the guy on the right), the former chairman of the University of Alabama at Huntsville physics department has apparently died.
This project they were working on was nothing less than Earth shattering. This device, if the claims of the scientists are to be believed, could possibly have led to sci-fi types of things like force fields, tractor beams and artificial gravity.
What happened? Where did the research go? What happened to Ning Li?
Google searching brings up tin foil hat type of conspiracies among other accusations that this is nothing but "Fringe Science" or "Pseudo Science",
Possibly is, but these are verifiable and respectable scientists. NASA did research. Ning Li did start a company up called AC Gravity and obtained a grant from the DOD to pursue research.
I would like to know what happened... did it turn out to be nothing? Did Ning Li run off with the grant money? Apparently she is from a very wealthy family of respectable scientists, so I don't readily buy that theory.
Anyone else familiar with this? This happened right here in Huntsville Alabama.
May, 2003: Dr. Ning Li sends a private email to colleagues claiming to have experimentally verified a large-scale AC-Gravity measuring "11-kilowatts of output effect", and abruptly disappears from public view. (this is her last known public communication)
While utilizing my cyber search Kung Fu, I was able to find this document which is apparently an email between Timothy Ventura and
Eugene Podkletnov.
From: Ventura, Timothy [timothy.ventura@attws.com]
Sent: Wednesday, July 21, 2004 3:37 PM
To: tventura6@comcast.net
Subject: FW: Tracking Down Dr. Ning Li



-----Original Message-----
From: Eugene Podkletnov [mailto:epodkletnov@hotmail.com]
Sent: Wednesday, June 16, 2004 12:34 PM
To: timothy.ventura@attws.com
Subject: RE: Tracking Down Dr. Ning Li


********************************************
Dear Tim,

All I can tell you is that Ning is all right, she is working for DOD and

therefore is not permitted to discuss her work openly. I do not know her

working email address, she phoned me couple of times this year and we
had
some brief exchange of opinions on superconductors and their structure.
I know that her parents, brother and husband all live in the USA, they
are
doctors and rather rich.
Ning still has an apartment in Huntsville but I do not know where her
lab is
situated now.
DOD is a serious organisation and I frankly have no idea how to get the
address. Still, Ning Li was present at the conference on gravity waves
organised by MITRE, they should have her address.

The idea of gravity shielding seems to attract people from China, a
theoretical article was published by Ning Wu, as discussed at Greenglow.

Later, if you want this topic at your site, we can talk on the phone or
exchange information by email when it is convenient.

Best wishes Eugene

*********************************************
>
>Dear Eugene:
>
>Every 2 months, I re-try the lining@comcast.net email address that you
>gave me for Dr. Ning Li -- I can tell from return-receipts that
>somebody is reading her email, but I never get a reply. I don't have
>any additional information about her, such as a telephone number, so I
>am unable to try and get in touch with her any other way.
>
>I did a trace on a message and it appears that whomever is reading her
>emails is checking them via a web-interface off a proxy-server from
>West Point, GA.
>
>Over the last few days I have talked to magazine-writers, University
>Professors, and her research colleagues -- I'm unable to get in touch
>with anyone who knows where she's at. Marc Millis doesn't have any
>information about her, but Jonathan Campbell recalls hearing a vague
>rumor that she was ill last year.
>
>What I do have is a detailed document stating that nearly $500,000 was
>allocated to her by the Department of Defense for researching
>'AC-Gravity' effects in superconductors. This funding should have
>become effective Sept 2002.
>
>I'd like to include information about her in a piece that I'm planning
>on the 'Podkletnov Device' and your research into SC Gravitational
>Shielding -- the overall idea being that I haven't covered this topic
>in-depth yet, and I really ought to try and put as detailed a
>description online as possible.
>
>Any thoughts on which direction I should take this?
>
>Also, I'd be interested in doing an interview with you for the website
>in the near future, if and when you have available time.
>
>
>Sincerely;
>
>Tim Ventura
>http://www.americanantigravity.com
>
>
So, if that email is for real, she has been seen as of 2004.
This may be nothing, but shit like this is what makes people go out and buy rolls of tin foil for uses ofher than cooking.